Cancellation by Pet Owner
Before booking starts
If the chosen Backer is not suitable after a meet and greet, cancellation is free with full refund. If you would like to choose another Backer, the amount paid will be transferred to the next Backer and any excess will be refunded in full to your balance which can be used for subsequent bookings. (refunds are subjected to less transaction fees if any.
Last minute cancellations (less than 24 hours before booking begins) may be charged a 50% cancellation fee at PetBacker's discretion which will be converted to a booking voucher for future bookings.
For no show with no cancellation requested, the full amount of the booking may be forfeited at PetBacker's discretion.
Refunds longer than 6 months from the date of transaction cannot be refunded due to payment gateway restrictions and will be converted into vouchers for future bookings.
For any other reasons a full refund may be requested, less 10% administration fees. You can also change the dates to avoid cancellation fees.
Display of cancellation reason
For transparency purposes, if the booking cancellation is due to the Backer being not suitable, the cancellation and its reasons may be displayed (based on certain conditions) on the Backer's profile page to assist future pet owners to make a decision to hire the particular Backer for a more secure and safe pet care.
For any other reasons, the cancellation and its reason will not be displayed on the Backer's profile.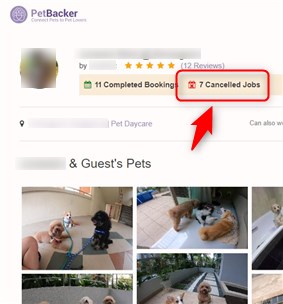 After check-in
If the cancellation is due to personal reasons such as a trip being cut short, the period that the service has been rendered will need to be paid in full and a 50% refund will be provided for the remaining booking period with another 50% retained in your balance which you can use for future bookings.
If the cancellation is due to a complaint or dispute, notice of the complaint or dispute must be given to PetBacker before the cancellation will be processed. The final amount to be refund will be decided when the dispute has been resolved.
PetBacker will mediate when necessary, and has the final say in all disputes.
You might be also be interested in: